How to Avoid Purgatory and be Taken Directly to Heaven!
<![if !vml]>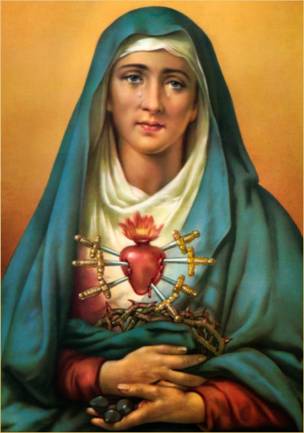 <![endif]>
"No one who had practiced devotion to Mary Sorrowful had been lost." (Blessed Vincent Pallotti)
The Chaplet of the Seven Sorrows of Our Lady
In the year 1233 seven holy men of noble birth withdrew from the city of Florence into the solitude of Mount Senario to found the Order called the "Servants of Mary" known today as the "Servites". The object of their institution was the meditation on the bitter pains Our Lady suffered in the Life, Passion, and Death of her Son Jesus, and to promote it amongst Christian people. One of the devout practices which they made use of for their purpose was a Chaplet or Rosary of seven divisions, in rememberance of the seven principal Dolours of the Blessed Virgin, which were to form the subject of the reciter's meditation according to his ability.  
The chaplet is one of the most highly indulgenced devotions in the Church and, according to St. Alphonsus de Liguori, those who are devoted to the sorrows of Mary are promised very great graces. These include protection from the temptations of the enemy at the hour of death, very shortened or suspended sentences in purgatory and the promise of heaven to those who propagate the devotion.
This chaplet has 7 sets of 7 beads with a separating bead or a medal between each set, 3 additional beads and a crucifix. (Please note this chaplet is not to be confused with the more recent devotion bearing the same name reportedly given to visionaries in Kibeho, south-western Rwanda, by alleged apparitions of Our Lady during the 1980's).
"The evil spirits had been commanded by God not to assail with temptations in the hour of death those who had faithfully practiced this devotion" (Blessed Vincent Pallotti)
Pray the Chaplet
To pray the chaplet firstly make the Act of Contrition:-  O my Lord, thou who alone art most worthy of my love, behold me standing before Your Divine Presence all in confusion at the thought of the many grievous injuries I have done thee. I ask Pardon for them with my whole heart, repenting of them purely for love of You, and hating and loathing them above every other evil of this life, when I think of Your infinite goodness. As I would rather have died a thousand times than have offended You, so now I am most firmly resolved to lose my life rather than offend thee again. My crucified Jesus, I firmly purpose to cleanse my soul as soon as possible by thy most Precious Blood in the Sacrament of Penance. And you, most tender virgin, Mother of Mercy and Refuge of Sinners, do though obtain for me the pardon of my sin by virtue of thy bitter pains; whilst praying according to the mind of so many holy Pontiffs in order to obtain the indulgences granted to this holy Rosary, I hope thereby to obtain remission of all pains due to my sins.
Then pray and meditate on the sorrows:-
<![if !supportLists]>1) <![endif]>The Prophecy Of Simeon (St. Luke 2: 21-35) "And after eight days were accomplished, that the child should be circumcised, his name was called JESUS, which was called by the angel, before he was conceived in the womb. And after the days of her purification, according to the law of Moses, were accomplished, they carried him to Jerusalem, to present him to the Lord: As it is written in the law of the Lord: Every male opening the womb shall be called holy to the Lord: And to offer a sacrifice, according as it is written in the law of the Lord, a pair of turtledoves, or two young pigeons: And behold there was a man in Jerusalem named Simeon, and this man was just and devout, waiting for the consolation of Israel; and the Holy Ghost was in him. And he had received an answer from the Holy Ghost, that he should not see death, before he had seen the Christ of the Lord. And he came by the Spirit into the temple. And when his parents brought in the child Jesus, to do for him according to the custom of the law, He also took him into his arms, and blessed God, and said: Now thou dost dismiss thy servant, O Lord, according to thy word in peace;  Because my eyes have seen thy salvation, Which thou hast prepared before the face of all peoples:  A light to the revelation of the Gentiles, and the glory of thy people Israel. And his father and mother were wondering at those things which were spoken concerning him. And Simeon blessed them, and said to Mary his mother: Behold this child is set for the fall, and for the resurrection of many in Israel, and for a sign which shall be contradicted; And thy own soul a sword shall pierce, that, out of many hearts, thoughts may be revealed." Pray 1 Our Father and 7 Hail Mary's
<![if !supportLists]>2) <![endif]>The Flight Into Egypt.(St. Matthew 2: 12-18) "And having received an answer in sleep that they should not return to Herod, they went back another way into their country. And after they were departed, behold an angel of the Lord appeared in sleep to Joseph, saying: Arise, and take the child and his mother, and fly into Egypt: and be there until I shall tell thee. For it will come to pass that Herod will seek the child to destroy him. Who arose, and took the child and his mother by night, and retired into Egypt: and he was there until the death of Herod: That it might be fulfilled which the Lord spoke by the prophet, saying: Out of Egypt have I called my son. Then Herod perceiving that he was deluded by the wise men, was exceeding angry; and sending killed all the men children that were in Bethlehem, and in all the borders thereof, from two years old and under, according to the time which he had diligently inquired of the wise men. Then was fulfilled that which was spoken by Jeremias the prophet, saying: A voice in Rama was heard, lamentation and great mourning; Rachel bewailing her children, and would not be comforted, because they are not" Pray 1 Our Father and 7 Hail Mary's.
<![if !supportLists]>3) <![endif]>The Loss Of The Child Jesus In The Temple.(St. Luke 2: 41-51) -"And his parents went every year to Jerusalem, at the solemn day of the pasch, And when he was twelve years old, they going up into Jerusalem, according to the custom of the feast, And having fulfilled the days, when they returned, the child Jesus remained in Jerusalem; and his parents knew it not. And thinking that he was in the company, they came a day' s journey, and sought him among their kinsfolks and acquaintance. And not finding him, they returned into Jerusalem, seeking him. And it came to pass, that, after three days, they found him in the temple, sitting in the midst of the doctors, hearing them, and asking them questions. And all that heard him were astonished at his wisdom and his answers. And seeing him, they wondered. And his mother said to him: Son, why hast thou done so to us? behold thy father and I have sought thee sorrowing. And he said to them: How is it that you sought me? did you not know, that I must be about my father' s business? And they understood not the word that he spoke unto them. And he went down with them, and came to Nazareth, and was subject to them. And his mother kept all these words in her heart. And Jesus advanced in wisdom, and age, and grace with God and men." Pray 1 Our Father and 7 Hail Mary's.
<![if !supportLists]>4) <![endif]>The Meeting Of Jesus And Mary On The Way Of The Cross (St. Luke 23-: 26-31) -"And as they led him away, they laid hold of one Simon of Cyrene, coming from the country; and they laid the cross on him to carry after Jesus. And there followed him a great multitude of people, and of women, who bewailed and lamented him. But Jesus turning to them, said: Daughters of Jerusalem, weep not over me; but weep for yourselves, and for your children. For behold, the days shall come, wherein they will say: Blessed are the barren, and the wombs that have not borne, and the paps that have not given suck. Then shall they begin to say to the mountains: Fall upon us; and to the hills: Cover us. For if in the green wood they do these things, what shall be done in the dry?" Pray 1 Our Father and 7 Hail Mary's.
<![if !supportLists]>5) <![endif]>The Crucifixion. (St. John 19: 23-30) "The soldiers therefore, when they had crucified him, took his garments, (and they made four parts, to every soldier a part,) and also his coat. Now the coat was without seam, woven from the top throughout. They said then one to another: Let us not cut it, but let us cast lots for it, whose it shall be; that the scripture might be fulfilled, saying: They have parted my garments among them, and upon my vesture they have cast lots. And the soldiers indeed did these things. Now there stood by the cross of Jesus, his mother, and his mother' s sister, Mary of Cleophas, and Mary Magdalen. When Jesus therefore had seen his mother and the disciple standing whom he loved, he saith to his mother: Woman, behold thy son. After that, he saith to the disciple: Behold thy mother. And from that hour, the disciple took her to his own. Afterwards, Jesus knowing that all things were now accomplished, that the scripture might be fulfilled, said: I thirst. Now there was a vessel set there full of vinegar. And they, putting a sponge full of vinegar and hyssop, put it to his mouth. Jesus therefore, when he had taken the vinegar, said: It is consummated. And bowing his head, he gave up the ghost." Pray 1 Our Father and 7 Hail Mary's.
<![if !supportLists]>6) <![endif]>The Taking Down Of The Body Of Jesus From The Cross. (John 19:31-40) "Then the Jews, (because it was the parasceve,) that the bodies might not remain on the cross on the sabbath day, (for that was a great sabbath day,) besought Pilate that their legs might be broken, and that they might be taken away. [32] The soldiers therefore came; and they broke the legs of the first, and of the other that was crucified with him. [33] But after they were come to Jesus, when they saw that he was already dead, they did not break his legs. [34] But one of the soldiers with a spear opened his side, and immediately there came out blood and water. [35] And he that saw it, hath given testimony, and his testimony is true. And he knoweth that he saith true; that you also may believe. [36] For these things were done, that the scripture might be fulfilled: You shall not break a bone of him. [37] And again another scripture saith: They shall look on him whom they pierced." Pray 1 Our Father and 7 Hail Mary's
<![if !supportLists]>7) <![endif]>. The Burial Of Jesus. (John 19: 38-42) "And after these things, Joseph of Arimathea (because he was a disciple of Jesus, but secretly for fear of the Jews) besought Pilate that he might take away the body of Jesus. And Pilate gave leave. He came therefore, and took the body of Jesus. And Nicodemus also came, (he who at the first came to Jesus by night,) bringing a mixture of myrrh and aloes, about an hundred pound weight. They took therefore the body of Jesus, and bound it in linen cloths, with the spices, as the manner of the Jews is to bury. Now there was in the place where he was crucified, a garden; and in the garden a new sepulchre, wherein no man yet had been laid. There, therefore, because of the parasceve of the Jews, they laid Jesus, because the sepulchre was nigh at hand." Pray 1 Our Father and 7 Hail Mary's.
Then pray 3  Hail Mary's in veneration of the tears which Mary shed in her sorrows, to obtain thereby true sorrow for sins and the holy Indulgences attached to this pious exercise.
V. Pray for us, Virgin most sorrowful.
R. That we may be made worthy of the promises of Christ.
Let us pray. Grant, we beseech Thee, O Lord Jesus Christ, that the most blessed Virgin Mary, Thy Mother, may intercede for us before the throne of Thy mercy, now and at the hour of our death, whose most holy soul was transfixed with the sword of sorrow in the hour of Thine own Passion. Through Thee, Jesus Christ, Saviour of the world, who livest and reignest with the Father and the Holy Ghost for ever and ever. Amen.
'I look around at all who are on earth, to see if by chance there are any who pity Me, and meditate upon My Sorrows; and I find that there are very few...' (Our Lady to St. Bridget)
Graces and Promises attached to the General Practice of the Devotion in Honor of the Blessed Virgin Mary Sorrowing
According to St. Alphonsus de Liguori it was revealed to Saint Elizabeth that some years after the Blessed Virgin was assumed into Heaven, St. John, the beloved disciple, was seized with an ardent desire to see her again. This favour was granted him. His dear mother appeared to him in company with Our Divine Lord. Then St John heard Mary asking of her Son some special graces for those who were devoted to her dolors. Our Lord promised the four following graces: 
1. That those who before death invoke the divine Mother in the name of Her Sorrows will obtain true repentance of all their sins;
2. That He will protect all who have this devotion in their tribulations, and will protect them especially at the hour of death;
3. That He will impress on their minds the remembrance of His Passion;
4. That He will place such devout servants in Mother Mary's hands to do with them as She wishes and to obtain for them all the graces She desires.
In addition to these four graces there are also seven promises attached to the practice of daily praying seven Hail Mary's while meditating on Our Lady's Tears and Sorrows. These seven promises were revealed to St. Bridget of Sweden (1303 -1373):
1. "I will grant peace to their families."
2. "They will be enlightened about the divine Mysteries.
3. "I will console them in their pains and I will accompany them in their work.
4. "I will give them as much as they ask for as long as it does not oppose the adorable will of My divine Son or the sanctification of their souls."
5. "I will defend them in their spiritual battles with the infernal enemy and I will protect them at every instant of their lives.
6. "I will visibly help them at the moment of their death — they will see the face of their Mother."
7. "I have obtained this grace from My divine Son, that those who propagate this devotion to My tears and sorrows will be taken directly from this earthly life to eternal happiness, since all their sins will be forgiven and My Son will be their eternal consolation and joy."
(Taken from "Devotion to the Sorrowful Mother" by Tan books)
'My daughter, tears shed for My Passion are dear to Me; but as I loved My Mother Mary with an immense love, the meditation on the torments which She endured at My death is even more agreeable to Me.' (Our Lord to Blessed Veronica of Binasco)
If you are interested in becoming a Catholic contact your nearest parish Church today